2019
Tracing the shadows, Vlassis Art Gallery, Thessaloniki
2015
Revival at the light,  Alatza Imaret, Thessaloniki
2013
Landscape – Inscape, Vlassis Art Gallery, Thessaloniki
2018
Spiritual Wandering, Hydra Cultural Foundation
2014
Inscape, Kreuzberg Art Gallery Berlin, Germany
Participate in Festivals and Biennale
2019
Biennale del libro d'artist, Napoli,Italy
Complesso Monumentale di San Domenico Maggiore – Sala della biblioteca
2019
International Drawing Biennial Exhibition, India
2016
Dimitria, Art Night, Vlassis Art Gallery, Thessaloniki
2013
XII Engraving International Biennial, Josep de Ribera, XATIVA
2012
11th International Biennial of Miniature, Gornji Milanovac, Serbia
2019
CICA Museum- Portrait, Korea
2018
Art Thessaloniki International Contemporary Art Fair, Greece
2016
Premier Luxury Mountain Resort, 5th Gastronomy Festival, Bansko
2012
5th Beijing International Art Biennale, Future and Reality, Beijing, China
International Εxhibitions
2020
ARAGÓN 232 Gallery – Salon De Primavera, July 2020, Barcelona
2017
Saatchi Gallery, Selected artwork «Screen at the 2nd floor»
2015
Gallery, Abstract, Barcelona, Spain
2014
The Story of the Creative, Exhibition Space, Long Island City, New York
2012
Chianciano Museum D'arte Di Terme, Siena, Italy
2011
Art Institute, Siena, Italy
2010
Richmond Art Gallery, International Mail Art Exhibition, New York
2017
Loosen Art, Selected artwork for Book Publication, Smoke city
2014
Gallery Gagliardi, London
2012
Lessedra Gallery & Contemporary Art Projects International Painting & Mixes Media – Sofia
2011
House of Arts, Piestany, Slovakia
2010
John F. Kennedy, Center for the Performing, Boston
2017
Women in the Arts Awards, Orlando International Competition, "International Artist Recognition," "Celebrating the Genius of Women"
2012
Chianciano Museum International Painting Competition Siena, Italy Leonardo Award, Special Report
2017
G.Vogiatzoglou Gallery, Athens
2010
John F. Kennedy, Center for the Performing, Boston
2014
Museum of Byzantine Culture, Engraving, Thessaloniki
2019
Αrte Útil with Tania Bruguera / Workshop
Whether through self-organised groups, individual initiatives, or the rise of user-generated content, people are developing new methods and social formations to deal with issues that were once the domain of the state. These initiatives are not isolated incidents, but also part of an art history that has been neglected, yet shapes our contemporary world.
This workshop will introduce the concept of Arte Útil, which roughly translates into English as "useful art" while also suggesting that art can be a tool or device.
Studying the shifting roles of contemporary art,the workshop will consider factors of the practice of Arte Útil such as institutional self-criticism, active hyperrealism,a-legality, reforming capital, beneficial outcomes, sustainability, intersection with other disciplines, and modes of creative collaboration.
The workshop will include case study presentations drawn from the Arte Útil archive and lexicon, and fieldwork to connect with relevant projects and sites in the area.
2019
Research LAB/Social Research Studio
Research LAB is a team of sociologists, researchers and artists based in Thessaloniki, which emerged from LABattoir's Social Research Studio workshop series. Research LAB team is scheduled to function as a permanent laboratory for at least one year.
Based on social science theories and the Theory of Change, it implements quantitative and qualitative research, network analyses, and develops evaluation methods for the impact of LABattoir project. In total, a mixed method approach will be used.
Research LAB is linked through its action and content with the two other Labs of LABattoir – Media LAB and Coalesce. Like the other two Labs, the Research Lab is not just theoretical or didactic but uses an approach of research actions to identify direct practical activities in the relevant social field.
Research LAB is:
Kelly Kati, Research Coordinator
Nikos Demelis, Thomas Diafas, Natassa Karra, Anni Tsevdomaria
2018
Empowerment Lecture Series
Labattoir Project as part of the strategy of working with the Cultural Entrepreneurship Hub
Thessaloniki, Greece
2012
Macedonian Museum of Contemporary Art Workshop, "Inspire 2012"
2019
Kids LAB: TV Studio, Labattoir, Thessaloniki,Greece
2019
Media LAB
The Media Lab is a group of young creatives that was formed through the training on live broadcast offered on the occasion of the Artecitya Thessaloniki conference organised by Goethe-Institut Thessaloniki, in collaboration with local and international institutions (Artecitya Thessaloniki by TIF – Helexpo, LABattoir by the Municipality of Thessaloniki and Institute HyperWerk for Postindustrial Design, Basel).
2013
48 Dimitria Workshop, Thessaloniki
Visual Arts-Lectures Workshop
with Delfin Sandro, Howard Caygill, and Evanthia Tsantila
2010
Venti Per Venti-IV Edition, Internship Samples
¨Creative Workshop Linea Darte¨ Piazza Dante, Naples, Italy
Group Exhibitions (selected)
2021
CHILDREN have the right NOT to remain silent!
Ίδρυμα Εικαστικών Τεχνών Τσιχριτζή
I will not hide my face because I have rights!!!
Artist Katerina Tsitsela
Η ΤΕΧΝΗ ΑΠΕΛΕΥΘΕΡΩΝΕΤΑΙ στο Ίδρυμα Εικαστικών Τεχνών Τσιχριτζή, Κασσαβέτη 18, Κηφισιά.
CHILDREN have the right NOT to remain silent – Ομαδική Εικαστική Έκθεση
29 ΜΑΪΟΥ – 19 ΙΟΥΝΙΟΥ
Συνδιοργανωση ART HUB Athens
Επιμέλεια Twnia Nisotaki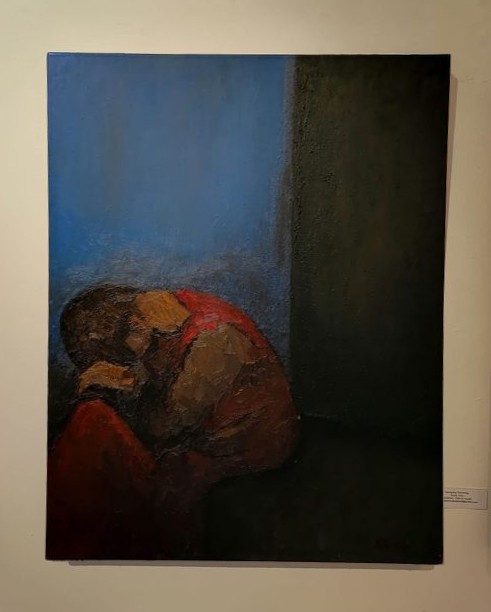 2019
" The smile of Tzokonta", Italian Institute of Athens, Greece
2019
RESTLESS WATERS, Multicultural Machine Shop, Patra, Greece
2018
Art Thessaloniki Contemporary Art Fair, Thessaloniki, Greece
2018
The book an artform Contemporary Artists' Books
Old Library at the Athens School of Fine Arts
Exhibition curators: Fiona Mouzakiti, Despina Stavrou
2018
Spiritual Wanderings
Cultural Foundation "Hydra", Thessaloniki
Art Historian Elli Kokkinis
2017
Find Refuge in Art, Art Factory
Edited by Elli Velliou, Athens
2017
Capability dialogue, G.Vogiatzoglou Gallery
Editor Christos Christofis, Athens
2016
Congratulations, Vlassis Art Gallery, Thessaloniki
2015
Artville multi-site, a group exhibition of engraving members of the Chamber
Of Visual Arts of Greece, which is being done in collaboration with the World
Art Organization. artAthina
2015
"Only you Rusotriquet", St. Mark's Basilica
Editor: Iris Kritikou, Heraklion, Crete
2014
¨To our Byzantium 30 + 1 Visual Approaches¨,
Museum of Byzantine Culture
Editor: Manolis Giannadakis, Thessaloniki
2013
"Athens Print Festival II" MIET, Athens
Editor: Manolis Yannadakis
2013
"Reconstruction", Alatza Imaret, Thessaloniki
Editor: Stella Manikati
2013
"Art of the Mind in London", Gallery Gagliardi, London
2012
" Future and Reality ", 5th Beijing International Art Biennale
Editing: Wu Changjiang, Beijing, China
2012
"Inspired by the Olympic Flame", G. Gounaropoulos Museum
Editor: Michail Romanos, Athens
2012
(A) Visible Cities ¨ Italian Calvinist, National Bank Cultural Foundation
Editor: Manolis Yannadakis
2011
Young Art Show, House of Arts
Editor: Martin Sevcovic, Piestany, Slovakia
2010
City Hall of Athens, Technopolis ", Athens
2010
45th Demetrias, Thessaloniki
2009
"Greek Colors Abroad II"
Cultural Center of the Municipality of Athens "MELINA"
Municipality of Athens: Cultural Organization of the Municipality of Athens
Editor: Michail Romanos, Athens
2009
"AUTH. 10 + 1 YEAR CHARACTER LABORATORY "
Museum of Vasso Katraki Aetoliko Messolonghi
Edited by X.Sachinis, M.Giannadakis
2008
Exhibition of the students of the visual & applied department
Arts of Fine Arts School of AUTh, Teloglion Foundation
Editing: Yatsos Kostas, Kirmanidou Eftychia
2020
ART virus HEALTH @ web exhibition The Pandemic of ART virus, Discover Greek Contemporary Art, April 2020
2019
" Sin as a Portrait", Chili Art Gallery, Athens
2019
" The Naked Truth" Aqua Gallery, Santorini, Greece
2019
Yedi Kule Project- Memory, Fair enough, Art, Thessaloniki, Greece
2018
Restless Waters
Castle of Ioannina Soufari Serai GAC
Historical Archives Museum of Ioannina
2017
Gioconda's Smile, Five centuries of artistic appropriation
Match More Underground Art Gallery, Chania, Crete
Edited by Dr. Konstantinos V. Proimos & Ioannis N. Archontakis
2017
"In Art", Zina Athanasiadou Gallery, Thessaloniki
2016
"ABSTRACT", GalleryZero
Editor: Karen Stoop, Barcelona
2015
ChaniaART 2015, contemporary engraving exhibition
'Cities: (A) visible – unpaved, unspoiled, Cultural Center of Chania
Editing: Vicky Tsalamata, Manolis Giannadakis & Dimitra Siatherli
2015
" eight stories – one reason," Gallery of Metamorfosi, Thessaloniki
2014
"Graduates 2011-2014"
Macedonian Museum of Contemporary Art of Thessaloniki
Edited by: MSc
2013
"Recourse" = shelter, vent, escape, Vlassis art gallery
Editing: Giorgos Tsakiris
2013
2013 'Deconstruction', Caza Bianca
Editor: Stella Manatitis, Thessaloniki
2012
"World Art Print", 11th Lessedra Gallery Sofia, Bulgaria
2012
¨The Art of the Mind¨ Chianciano International Art Award, Siena, Italy
2012
Biennial of Miniature Art – Gornji Milanovac
11th International Biennale of Miniature Art, Belgrade, Serbia
Editor: Ana Bolovic
2011
"Goya in Teloglio, Sleep of Logic Creates Monsters"
Telfoglio Museum
Coordinators / Masters: Manolis Giannadakis, Kyriakos? Mortarakos
Athanasios Pallas, Georgios Tsakiris
Xenophon Sachinis
2011
Siena Art Institute, Siena, Italy
2010
"Greek Colors – Peaceful Colors II"
Cultural Center of the Municipality of Athens, Exhibition of Culture
Organization of the City of Athens for the World Peace Day
Editor: Michail Romanos, Athens
2010
"Adaptivity", John F. Kennedy, Center for Performing Arts
Editor: Mihalis Romanos, Boston, America
2009
"ENGRAVING " Museum of Contemporary Art Florina
Editing: X.Sachinis, M.Giannadakis
2009
'Family Case 2', Vapopouleio, Thessaloniki
Editing: Giorgos Tsakiris
Bibliography (catalogs, publications) Selection
2019
Tracing the shadows, Vlassis Art Gallery, Thessaloniki
texts: Maria kenanidou (GR)
2019
CICA Museum- Portrait, Korea
texts: (EN)
2019
"Sin as a Portrait", Chili Art Gallery, Athens
texts: Olga Latousaki (EN)
2019
RESTLESS WATERS, Multicultural Machine Shop, Patra
texts: Ivannis Kopsinis (EN)
2018
Art Thessaloniki International Contemporary Art Fair, Greece
texts: P.Tsatsis (GR – EN)
2017
G.Vogiatzoglou Gallery, Athens
texts: Kyriakos Mortarakos, Christos Christofis, Manos Stefanidis (GR)
2015
Resurfacing in the light, Alatza Imaret, Thessaloniki
texts: Giorgos Tsakiris, Stella Manikati (GR)
2014
Our Byzantium 30 + 1 Visual Approaches¨, Museum of Byzantine Culture,
Thessaloniki
Texts: Dr. Agathoniki Tsilipakou, Manolis Giannakakis, Anastasios
Antonaras(GR,EN)
2013
Landscape- Inscape, Vlassis Art Gallery, Thessaloniki
texts: Kyriakos Mortarakos, Georgia Kourkouniaki (GR)
2012
11th International Biennial of Miniature, Gornji Milanovac, Serbia (RS)
2012
Biennial of Miniature Art – Gornji Milanovac
11th International Biennale of Miniature Art, Belgrade, Serbia
texts: Zdravko Vucinic (EN, RS)
2012
(A) Visible Cities ¨ Italian Calvinist, National Bank Cultural Foundation, Thessaloniki
texts: Thalia Stephanidou (GR)
2009
"Greek Colors Abroad II", Cultural Center of the Municipality of Athens "MELINA"
The municipality of Athens: Cultural Organization of the Municipality of Athens
texts: Nikitas Kaklamanis, Angelos Moschonas, Michael Romanos (GR)
2019
Biennale del libro d'artist, Napoli,Italy
Complesso Monumentale di San Domenico Maggiore – Sala della biblioteca
texts: Gennaro Ippolito e Giovanna Donnarumma (IT)
2019
International Drawing Biennial Exhibition, India
texts: Divyaman (EN)
2019
Aqua Gallery, Santorini, Greece
texts: Olga Latousaki (EN)
2019
Yedi Kule Project
texts:Stela Manikati (EN)
2017
Cioconda's Smile, Five centuries of artistic appropriation
Match More Underground Art Gallery, Chania, Crete
Edited by Dr. Konstantinos V. Proimos & Ioannis N. Archontakis
2015
"Only you Rusotriquet", St. Mark's Basilica
texts: Mary Mike, Tasoula M. Mavromichaelaki (GR)
2014
"Graduates 2011-2014", Macedonian Museum of Contemporary Art of Thessaloniki
texts: Xenis Sachinis, Dr.Artsxanthi, Skarpia-Hoepeel (GR)
2013
48 Dimitria / Recourse, Vlassis art gallery, Thessaloniki
texts: Fotini Logothetidou (GR)
2012
5th Beijing International Art Biennale, Future and reality, Beijing, China (EN, CH)
2012
Chianciano International art award, Museum d'Arte Di Chiangiano Terme, Siena, Italy
texts: Roberto Gagliardi (EN, IT)
2009
'Family Case 2', Vapopouleio, Thessaloniki
texts: Elli Kokkinis Kaplakis, Xeni Vlachaki Miliaras (GR)
2008
The Aristotle University of Thessaloniki, Teloglion Foundation, Thessaloniki
texts: Georgios Katsaggelos (GR)
2019
Independent magazine
2018
NNC LONDON ART MAGAZINE , London
2018
Art Reveal Magazine, London
2018
Levure littéraire, France
2020
MATRIZ, Woman Artists, Paris, April 2020